Introduction
Changhua is a smaller and, considered to be, rural city in Taiwan. But, I imagine the crowded buildings and cacophonous streets make it seem more like a city. There are a lot of hidden gems in Changhua, if you know where to look. It's certainly not as cosmopolitan or as exciting as Taichung, but it has its own charms. Here is some advice we have compiled from living here for a year.
Transportation
The benefit of living in Changhua is how cheap it is. There's not a lot of temptation to spend money so it's easy to save. If you want more adventure and excitement then catch the train to go to Taichung and when you're in Taichung take full advantage of the uBikes and taxis to the get around.
Xinwuri is where the HSR or High Speed Rail station is. It's in between Changhua and Taichung station. The HSR is great for jetting around the west side of Taiwan, but it's not very convenient for being next to major cities you'll find. There are exceptions, so plan ahead. The HSR can get you from Changhua to Taipei in two hours so use the HSR to your full advantage. Tickets range from 300 NT-800 NT
Otherwise, the Tze-Chiang and Pu-Chang can take you everywhere on the island. They're the slower but still fast train. It's cheaper than the HSR. Just book a ticket early from the Changhua Train Station so that you'll actually have a seat. You can get tickets 2 weeks in advance. If you get a ticket, but no seat you'll have to stand. It's rough, but you can do it. Tickets range from 10 NT – 800 NT
Big Attractions
Baguashan / Buddha Mountain
Baguashan or Buddha Mountain is very close to the Eagle apartment. It is a short walk and then a small hike up a hill. At the top is the famous Giant Buddha which you can actually go into. It's certainly worth a look at night and the day. The daytime offers street vendors and snacks while the nighttime offers a look at the glittering lights of Changhua.
Address: No. 8-1, Guashan Rd., Changhua City, Changhua County, Taiwan
Cost: Free
Hell Temple is a rundown attraction built some 30 years ago. It's supposed to be a representation of the Taiwan idea of hell. It's old and kitschy, but it's definitely worth a look. Prepare to laugh and feel uncomfortable all in the same breath.
Address: 12 Lane 187 Gongyuan Rd, Sec 1; 公園路一段187巷12號
Cost: Adult 50NTD
Lukang Longshan Temple is a bit outside of Changhua and is a very large and beautiful temple. It boasts impressive architecture and impressive views. If you've seen temples before in Taiwan then skip this. There are a ton of temples in Taiwan and when you've seen one, you've seen them all. But, that's just my opinion.
Address:  No. 81, Kinmen St., Lukang Township, Changhua County, Taiwan
Note: I'm sure there's more out there, but that's all I know of in Changhua.
Food
There's a lot of traditional and small shops in Changhua where you can get cheap and semi-tasty food–depending on the quality. What I'm more interested in is the more updated and unique restaurants which offer ambience, interesting food, and different flavors. Changhua has a bunch of hipster cafes and restaurants if you know where to look. They even have hipster shops! Just pick up The White Post which is a newspaper which bridges Mandarin and English in its stories by publishing parallel stories in both languages. You can find the Post in the White Cube café, the Planet, Red Leaf Café, and Aga Burger and so one. They're a chain of hipster food spots which have banned together to create hipster culture in Changhua.
This place is my favorite place because it's a bakery and a restaurant. The bakery is in the front and offers all manner of baked items including cakes, bars, tarts, brownies, rolls, and breads (check their facebook for their baking schedule). Best of all, these things are western-style items and are different from the normal faire you'd find at a Taiwanese bakery which are a dime a dozen. Yolo's baked goods are special.
The restaurant offers sandwiches, bowls, and breakfast goods. It's a little hard to find the restaurant because it's hidden in the back and you have to buzz in, but once you're in you'll find a green oasis to enjoy your good. English menu available. Yolo Moment has saved my day over and over with its amazing desserts. Best of all, it was literally minutes from my work.
Address: Changhua County, Changhua City, Chung Cheng Road, a section 430
Hours: Sundays closed. Monday-Saturday open 10am-9pm
Price: $$
This place has legit thin-crust pizza which is hard to find in Asia. Dominos and Pizza Hut have nothing on this place. Other places offer cheaper, larger, and less delicious pizza if any pizza will do, but if you want delicious pizza with quality ingredients then Pizza Rock is your friend. They have pizza, salad, sandwiches, and wings. They have locations all over Taiwan. English menu available and they deliver.
Address: No. 25, Zhongzheng Road, Changhua City, Changhua County
Hours: Monday – Sunday 11:30 am – 9:30 pm
Price: $$
Aga Burger has legit burger both vegetarian and full meat. They have a really cool restaurant and interesting décor. My only regret about this place is that they don't offer fries with the meal. But, they do offer roasted veggies. English menu available.
Address: No. 259, Chang'an City, Changhua County
Hours: Mon – Fri 5pm – 8:30pm Sat – Sun 11:30 am – 2:30 pm and 5pm- 8:30 pm
Price: $$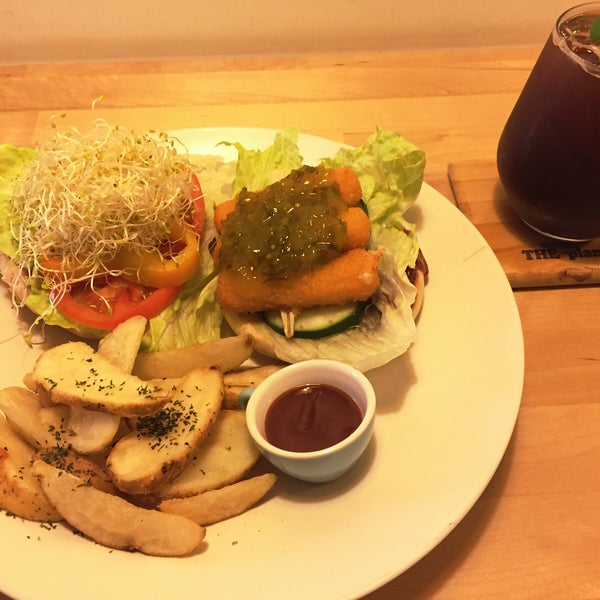 Planet is a hipster vegetarian's paradise. It has only vegetarian food after all. They have veggie sandwiches and burgers. There are also delicious mozzarella sticks and fries available. If you're looking for good mixed coffee drinks, this is the stop for you. English menu available.
Address: The planet 星球咖啡, 中華路260號, 500 Changhua
Hours: Mon–Wed, Fri–Sun 11:30 AM–10:00 PM
Price: $
There are a lot of hot pot spots in Taiwan. Most are cheap and delicious. They come with a soup that you choose, a meat of your choice, and usually set veggies. They also offer sauces, rice, drinks, and sometimes dessert. I'm not going to put any addresses specifically because they're everywhere!
This is a really cheap and fast teppanyaki place near the apartment. It's about 120NTD for a full meal of soup, rice, veggies, and meat. Good for an easy meal.
Address: 彰化縣彰化市三民路356號
Hours: Mon-Sun 11am – 1:30 am
Price: $
Read Leaf Café is another hipster café which offers delicious teas and good sandwiches all delivered in an old refurbished hotel. They offer an English menu, literature, and cute ambience.
Address: 彰化市長安街100巷五號
Hours: Tues-Wed Closed. Thurs-Mon 9:00 am – 5:00 pm
Price: $
Guo Jia is a wonderful little shop offering fresh smoothies, juices, and light sandwiches. For those who are health conscious, ask for no added sugar in the juice. English menu available.
Address: 1979 中正路二段106巷 彰化, 臺灣省 (This is a nearby address)
Hours: ???
Price: $
Max Burgers offers delicious American brunch, burgers, and wings. It's a wonderful place with no frills. It's just really good food for when you're missing the US. English menu available.
Address: 120 Changhua Guanghua Street, Changhua County
Hours: Mon-Sun 9 am – 8:30 pm
It's a breakfast place with Taiwanese flair. They have an English menu. I'm sure you'll be here often.
Address: No. 265, Section 6, Luhe Road, Hemei Township, Changhua County, Taiwan 508
Price: $
Hours: 3 am – 2pm everyday
If you walk down San Min Road and turn left, you'll find a street filled with tea shops and traditional small Taiwanese restaurants.
Address: Intersection of 永安街 (Yong-an Street) and 三民路 (San Min Road)
Price: $
Hours: Varies
There are two night markets in Changhua. The big one is open on Fridays and Saturdays while the small one is open Tuesday and Thursday. It will be closed when it rains.
Address: 永安街 (Yong-an Street) past the train tracks, in the large otherwise empty lot. Nearby this address: 500彰化縣彰化市永安街264號
Price: $
Hours: 7pm – 11pm ~
Shopping and Markets:
There are a few key places to shop at in Changhua. There's the small and cheap day markets where you can get everything that you want from clothes to food to toys to hardware. There's larger stores where you can stationary, electronics, and everything in between.
This is a cheap supermarket. It's open late and it has most miscellaneous items like produce, food, and etc. I don't recommend buying produce from here though because it's usually not fresh. Buy small non-perishables from here, but don't buy much else.
Address: 500彰化縣彰化市三民路305號
Price: $
Hours: Open til 10:30 pm~
Carrefour is a French owned supermarket chain that happens to populate most of Changhua. Go figure. It's your one stop Walmart style shop with everything. It's housed in a giant complex with restaurants, clothes shops, and a lot of other stuff. Be careful at Carrefour. It's far from the apartment and it's easy to buy a lot of things. Go to Carrefour is you're looking for harder to find imported items. Watch out for their wine festivals on special weekends. You can get drunk for free!
Address: Changhua County, Changhua City, No. 321 Jin Ma Road
Price: $$$
Hours: Monday – Sunday 9 am – 11 pm
The Blue Market aka PX Mart
There are two blue markets near the apartment. One on San Min and one on Changxing Street. Both are about the same and offer fresh produce and food items. Go here is you're looking for specific grocery items and fruits. It's a bit more pricey than the day markets, but they're open late.
Address: San Min – 500彰化縣彰化市三民路430號
Changxing St – 500彰化縣彰化市光復路35號
Price: $$
Hours: Mon-Sun 8 am – 11 pm
El Capitan aka the Green Store
El Capitan is a Japanese owned grocery store and it's very clean, modern, and fancy. They have a lot of imported items and beautifully packaged ready to eat items. I rarely buy things from this place because It's just really expensive, but it's fun to walk around and stare at things.
Address: 500彰化縣彰化市曉陽路15號
Price: $$$
Hours: 10 am – 9 pm everyday
The day market is pretty self-explanatory. There isn't really an address that it adheres to. Head down the street opposite of Morni. Get lost and wander around. You'll find everything and anything. Cheap produce, clothes, junk, shoes, bags, toys, and etc. It's open at the crack of down and closes in the early afternoon. It holds no set hours. It kind of just happens.
This place has every miscellaneous item that you can think of including cleaning supplies, hardware, toys, and other non-perishable items. It's cheap and the shop owners are really sweet and cute. This shop comes in clutch for when you need quick supplies for school.
Address: To the direct left of the apartment.
Price: $
Hours: Open early closes at 9:00 pm. Open almost everyday.
Noble bookstore sells a lot of Chinese books and also acts as a stationary and gift store. They have a lot of cute random things like stuffed animals, cards, and pens. It's a great place for gifts and prizes for students, but it can get pricey if you're not careful.
Address:  500彰化縣彰化市光復路89號
Price: $$
Hours: 10 am – 10 pm everyday
The name is self-explanatory. They specialize in stationary and crafts. There are some books for sale, but this place mostly focuses and crafting, pens, paper, and little gifts and some other random things. It's cheaper than nobel, but it's selection of cute things can be lacking.
Address: No. 404, Changmin City, Changhua City, Changhua County
Price: $
Hours: 9:30 am – 10 pm
Cave Books is a treasure trove for so many reasons. Biggest reason yet is the fact that they offer English books! There's one right in Changhua up the street from the train station. Don't make the mistake I did and go to the one in Taichung. You don't have to! It's selection is a bit small compared to Taichung, but it'll do the trick. They have a ton of children's books and a selection of novels. There's also some small gifts and what not. The last time I checked, Cave Books was closed. I don't know if it has closed for good. If that's the case, there's a Cave Books in Taichung.
Address: 500彰化縣彰化市中正路二段362號
Price: $$$
Hours: 10:30 am – 7:30 pm
Entertainment:
There's admittedly not a lot of big entertainment centers available in Changhua, but there's some.
This theater is closer to the train station, and it's bigger. But, it's older and somewhat noisier because it is bigger. Get used to people talking on phones during the movie sometimes. Get a coupon from Guo Jia or TP Tea.
Address: 500彰化縣彰化市中正路二段48號
Price: $
Hours: Check movie times
This theater is smaller and farther from the train station, but it has an updated interior despite it's outer appearance. It's the same price as the other theater. Just, different. Get a coupon from Guo Jia or TP Tea for cheaper tickets.
Address: 500彰化縣彰化市中正路二段153號
Price: $
Hours: Check movie times
Magic Bean Board Game Café
The Magic Bean Café is very close to the apartment and you can get there just by walking. It is cheap and they have a wide selection of board games. They might be in Chinese, but I'm not sure. You buy a drink and food and you can play for a few hours.
Address: 500彰化縣彰化市成功路320號魔豆桌遊咖啡彰化店
Price: $
Hours: Tuesday – Sunday 11 am – 8:30 pm. Closed Monday.
This is a little far from the apartment, but it's there if you want to do something different. You'll have to get a taxi or bike to get there, but it's not that bad. There are cheap games, beer, but no real food. Eat before getting there. There is also a Uniqlo nearby if you want to go shopping.
Address: No. 25, Lunping South Road, Changhua City, Changhua County
Price: $
Hours: 11 am – 12 am everday
There are a few parks in Changhua, but one of the biggest is Yao Ming Park which is down San Min Road. On the right side of the street is a big stage with jungle gym. On the left side of the street are basketball courts and a big track. Open all hours. Free.
Address: 500彰化縣彰化市彰化縣彰化市長順街三民路口
Sports and Aquatic Center
A little bit father up from Yao Ming Park is a newly built sports center, right next door to TaiHe Elementary School, which functions like a YMCA and even has a pool. If you want to swim, bring a swimming cap and get ready to shower before hopping into the pool.
Address: 500彰化縣彰化市建國東路2號
Hours: 6 am – 10 pm everyday
Price: $
There are a few bars in Changhua, but the one that is the favorite of expats is Flamingos. It's run by Sunny who is a sweet Taiwanese dude who speaks enough English and loves sports and offers decent drunk food which keeps the expats coming back. I've spent many a night forging friendships over beers, darts, and pool. When you go in, it'll seem like they're closed. Heck even the sign will say it's closed. They're not. Just go in.
Address: 500彰化縣彰化市中山路二段382巷22-2號
Hours: idk. Open almost every weekend until Sunny decides to go home.
Price: $
Disclaimer: Most of these pictures are not mine. I got them from the internet. I apologize for not taking more pictures of Changhua while I lived there!